AES publishes Matthew Lien's binaural research, invites to present eBrief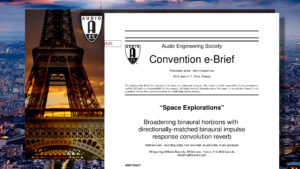 June 5, 2016 – After researching and successfully gathering binaural impulse responses (acoustic fingerprints) in churches, basilica, chapels and cathedrals across Canada, England, France, Italy, Germany and Austria, the Audio Engineering Society (AES) published Matthew's research into how directional binaural convolution reverb can be applied to binaural multitracked music production.
In other words, Matthew has identified an entirely new approach to producing 3D music for headphones.
He was also invited to present his research eBrief at the 140th AES convention in Paris, France.
The research contributes to the important area of spatial audio, at a time when 85% of the music market experiences music and audio programming on headphones/earphones.
The AES is the world's largest standards-setting body for all things audio. Matthew's eBrief, "Space Explorations: Broadening Binaural Horizons with Directionally-Matched Impulse Response Convolution Reverb" is available through the AES website to members.