CBC's Airplay with Dave White reports on Matthew's new album
The CBC's Dave White interviewed Matthew Lien, about his twenty-first album entitled "The Romantic Route 3," commissioned by Taiwan's Ministry of Hakka Affairs.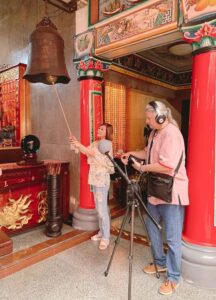 Lien was appointed Cultural Ambassador by the government of Taiwan for his work promoting cultural awareness through music. The Ministry which commissioned Lien selected him for his past work with indigenous and ethnic minority groups – recording their music and the sounds of where they live, then blending those recordings with studio performances.
His on-location/in-studio cross-cultural albums have garnered the region's top music awards and acclaim from scholars and music critics alike. Lien has also hosted television programs focused on indigenous and Hakka music, which earned him nominations for Best Series, and Best Hakka Album (resulting from the show's episodic soundtracks which he produced).
The Romantic Route 3, refers to a route which connects the Hakka-rich inland of northwestern Taiwan. The project required Lien to live in remote locations along the mountainous route to gather inspiration, record music and sounds, and to collaborate with both prominent and obscure Hakka musicians.
Listen to Dave White's interview with Matthew at this link:
New music from Matthew Lien
Go to the DISCOGRAPHY page of this website to listen to the album.