"Embracing X Surroundings" 16-channel outdoor sound sculpture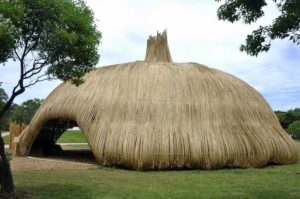 July 30, 2017 – Matthew was commissioned by the Taoyuan government to create the concept, general appearance and sound design for a massive 16.3 channel outdoor sound installation called "Embracing X Surroundings."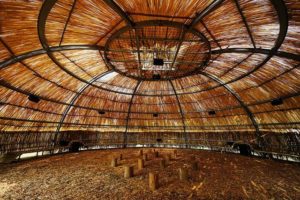 The "Surroundings" component consisted of a large dome with three levels of speakers (6 on the floor, 8 at mid-height, and 2 overhead) with 3 subs, all on discreet audio channels with spatial audio panning seamlessly throughout the 3D array. The audio program consisted of four ecosystems: three ecological soundscapes including coastal, wetland and high mountain featuring natural and aboriginal elements; and the fourth and final presenting a busy city environment.
People experiencing the sound sculpture were encouraged to reflect on how they felt in each environment, hopefully realizing how stressful and uncomfortable to city-scape left them feeling, with a notion that such city noise-scapes are entirely by choice and could be changed if enough people wished it so.
The "Embrace" component consisted of several large tree-truck shaped sound sculptures placed throughout the park, with subwoofers inside playing the sound of a heartbeat. The heartbeat can only be "felt" when embracing the tree, causing people to experience the freedom of "tree hugging" — an act which researchers have found actually does promote a sense of wellbeing.
"Embracing X Surroundings" was exhibited as the main attraction for a newly-created public green space, and was very well-received by the public and the media alike during its four week installation.
For more information (in Chinese), see the following links: