Matthew Lien selected as one of three Canada panelists for the "Pivoting to Digital" online discussion
Following has successful producing of the "Not Close, But Personal" COVID Concert Series, Matthew Lien was chosen as one of three panelists for the Canada-wide "Pivoting to Digital" online panel discussion. Following is the text introducing the event.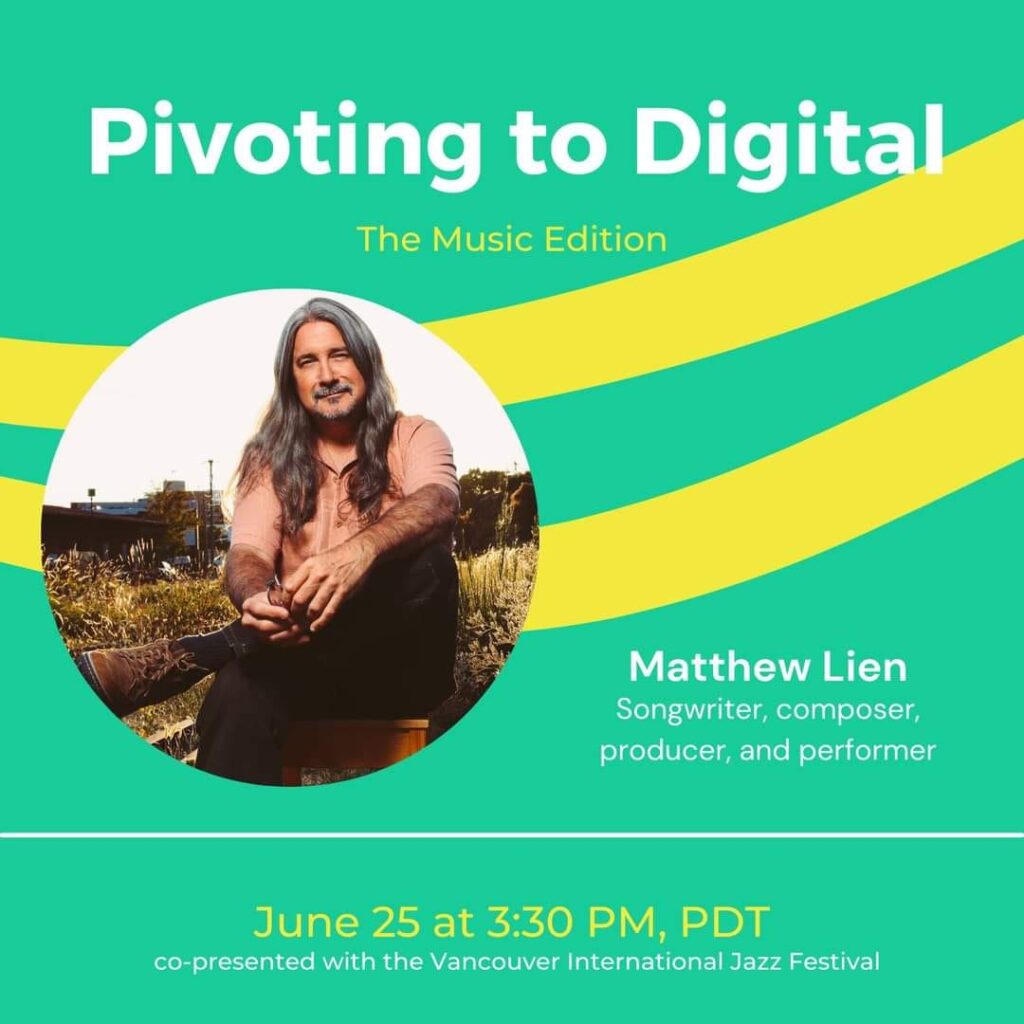 Many months ago we were all enjoying concerts, crowded shoulder to shoulder, basking in our favourite songs being sung live. But suddenly, a mandatory pivot to digital was expected of musicians everywhere. What happens when a musician is put on the spot, expected to share a pre-recorded performance as part of an interview, or festival after the fact? As art has carried us through the pandemic, the presenter's and public's relationship with performances has considerably changed due to going virtual, but your rights haven't. In this panel discussion co-presented by the Vancouver International Jazz Festival, we'll be joined by two time juno-nominated bassist, composer, and educator Jodi Proznick alongside Tim Reinert, Vancouver-based writer and broadcaster, and Matthew Lien, songwriter, composer, producer, and performer to discuss the musician's pivot to digital.
Meet our panelists:
Matthew Lien
Matthew Lien is a songwriter, composer, producer, and performer. His first release "Bleeding Wolves" became a multi-platinum legend in Southeast Asia where his 20+ albums remain popular today. He's received honours never bestowed upon a foreigner in the region, including first to perform at Southeast Asia's Grammy-equivalent, first nominated, and first to win. For his efforts to promote indigenous and traditional culture through music, he's been appointed Ambassador and Honourary Citizen by several regional governments, Cultural Ambassador by Taiwan's government, and Man of the Year by Esquire magazine. Back home in Canada, he's been awarded Best Yukon Artist and received two nominations at the WCMAs, Canada's Parliamentary Certificate of Honour, Taiwan embassy's Certificate of Appreciation, and an appointment as Yukon's Special Envoy to Taiwan. His research into immersive audio and acoustic archaeology have earned him the 2021 Yukon Innovation Prize.
Jodi Proznick
Two time Juno-nominated bassist, composer, bandleader, and educator Jodi Proznick has earned a reputation as one of Canada's finest jazz artists. She has won numerous National Jazz Awards, including Bassist of the Year in '08 and '09. Her group, the Jodi Proznick Quartet, was awarded the Acoustic Group of the Year and Album of the Year in '08 and the Galaxie Rising Star at the Vancouver International Jazz Festival in '04. In 2019, Jodi was awarded the Western Canadian Music Award for Jazz Artist of the Year, and also regularly performs with her own quartet featuring her husband Tilden Webb on piano and with Triology, which features pianist Miles Black and guitarist Bill Coon. For more information go to www.jodiproznick.com.
Tim Reinert
Tim Reinert is a Vancouver-based writer and broadcaster who mainly writes and talks about
music, and most of that writing and talking is about jazz. His weekly jazz show on Mixcloud, The
Infidels, is coming up on its two-year anniversary, and he has just announced the creation of a
brand-new record label dedicated to celebrating and supporting musicians that play in various
jazz traditions. The first release is It Becomes Us by Kenton Loewen and JP Carter. It was produced by Tim, and is scheduled for release on June 18, 2021.Tim has also been emceeing jazz concerts all over Vancouver for different organizations for over 25 years. He can be found at: theinfidelsjazz.ca